PDO CERTIFICATION
Protected Designation of Origin is a EU certification protecting the Geographic origins, traditional features, human and environmental variables that make a given product a unique excellence which cannot be reproduced.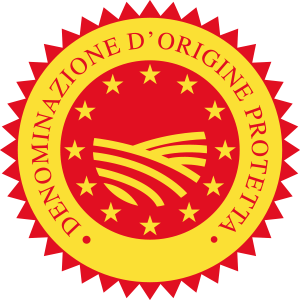 PDO GRANA PADANO
It is one of the world's most renowned types of cheese; ageing is slow and natural, in protected environments, at the right, constant temperature. According to the kinds of ageing, hints of milk, hay and dried fruit may be conveyed.
Grana Padano is produced in 27 Italian provinces across Lombardy, Piedmont, Trentino Alto Adige, Veneto and Emilia Romagna. Ageing: 9-16 months, over 16 months, over 20 months.
PDO PARMIGIANO REGGIANO
Like Grana Padano, it is one of the most renowned types of aged cheese both in Italy and abroad. Characterised by a lengthy ageing, it gives off hints of milk, herbs, hay and dried fruit. As it contains no carbohydrates and lactose, it can be savoured by those with intolerances too.
Parmigiano Reggiano is produced across Italy in the regions of Lombardy and Emilia Romagna. Ageing: min. 12 months, over 18 months, over 22 months, over 30 months
PDO PECORINO ROMANO
It is one of the most ancient types of cheese, with a tradition dating back to over 2000 years ago. Produced with fresh sheep milk, flavourful, slightly spicy as a table cheese, intensely savoury as a grated cheese. Antioxidant, easy to digest, its ageing makes it apt for those with lactose intolerance. Rich in calcium, excellent for your metabolism.
Pecorino Romano PDO Area: Latium, Sardinia and the Grosseto Province. Ageing: min. 5 months for table cheese Min. 8 months for grated cheese